STARRBY
Type: Earth
Body: cerulean blue (G3: slightly closer to sea foam)
Hair: kelly green & dark blue (G3: slightly brighter)
Eyes: kelly green (G3: medium blue & green w/star shaped twinkle)
Symbol: 2 stars & 2 bees
Other: white coronet on hind right leg, white star (marking, not shape) on forehead
Optional-other: bobbed hair & short cropped tail
Background info: likes Shakespear, movies & long walks in the woods. believes in time-travel.
Picture:
TENN
Type: Earth
Body: white
Hair: medium gray with slate blue, or slate blue with medium gray (either orientation of the combo is fine)
Eyes: medium brown
Symbol: navy blue diamond with green border (thick on bottom, thin on top) and slashes of sky blue (2), bright yellow (2), and white (1). See pic below.
Optional-other: short mane, spiky forelock. enjoys wearing ties, preferably red, brown, blue, or gray. also wears squarey glasses when he wants to look particularly smart.
Background info: enjoys 19th century poetry, sightseeing & bananas. goes antiquing every weekend.
Picture: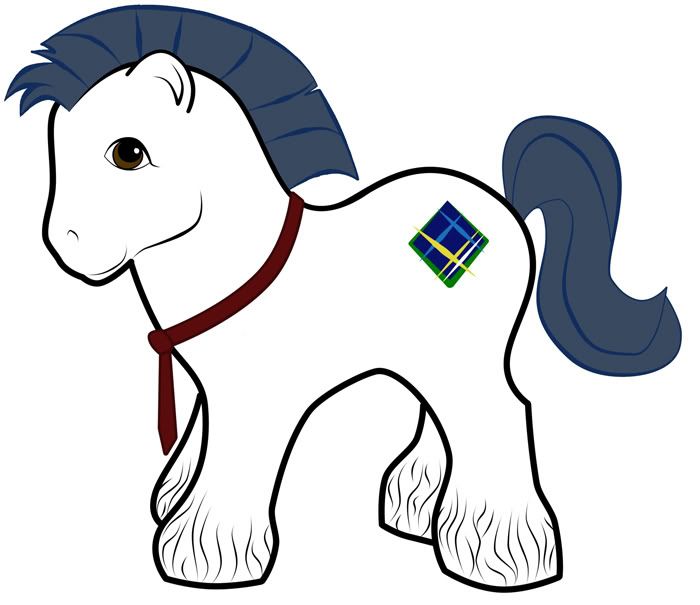 BABY
(to be named later, I guess)
Type: Earth
Body: dark blue
Hair: dark gray with a blue-gray streak in mane
Eyes: kelly green
Symbol: 3 stars in yellow (smallest), light blue (medium), and kelly green (largest), each with a point toward the center.
Other: elongated diamond stripe down forehead/nose
Picture:
To see G3 Starrby & adoptables made by all sorts of sweet lovelies:
http://www.mlptp.net/forums/album.php?albumid=844
Last edited: