Laela
Laela is a pale yellow pegasus, with a blend of red brown and black hair in varying shades. She also has many braids, ribbons, beads and feathers in her mane. She has very bright green eyes and is a twinkle-eyed pony. Her wings are brown and dappled with beige and similar to bird wings. Sometimes she wears numerous bangles and a red shawl embroidered with gold for special occassions.
Laela is a very solem pony, mainly keeping all of her emotions bottled up. She is very reserved and lonely at times, also having a large interest in witch-craft and the spirits. She can speak in many exotic tounges and mainly stays locked up in her room or outside practising her magic. Her powers are the ability to speak and understand animals, to heal and to have dreams in which she can predict things or see the past.
Jay, Firo and Blazing Star
My only persona is Jay. She's a white alicorn, with orange turquoise and white striped hair. She has a turquoise star around her eyes, which are blue. I haven't decided on a symbol just yet, but I would probably draw it as a complicated star pattern with all the lines interwined and all that. I often imagine her having orange faded legs and turquoise stars in random places on her body too. Jay is very clumsy and not quite the most intellegent person around, she isn't really at all that worried about anything and is generally a very happy-go-lucky pony. She is always happy to talk and just about always has a topic to discuss. She also likes to state her opinion and make sure she wins things, even if she's quite slow and not very bright. She doesn't have any powers, but she is a very promising writer and artist. She also has an admirer. Fire-Dancer, also known as Firo is a bold earth-pony. He longs to be friends with Jay, but he knows she would never like him (even though she
does
quite admire him). He likes revenge and trouble is his middle name, there are certainly more things to him behind his large square-rimmed glasses. Despite being mischeivious he is serious about his studies. He loves science, but sometimes he does things just to get close to Jay. He also enjoys basket-ball. He has a grey body, with a cropped orange mane and there is yellow fade on his muzzle. He also has a fire symbol, which starts at his hooves and flares up to his rump in a blend of orange and yellow.
Thinking about Jay and Firos future, I have also invented their child. Her name is Blazing Star (Blaze for short.
She has a pale grey body, with orange and pale blue hair. She is a unicorn. Her symbol is a shooting star in pale blue, silver and pale orange.
She is a mix of both of her parents, being the best of both. She is quite mischeivious, but is intellegent and a loyal friend.
Art and Adoptables:
By Alli: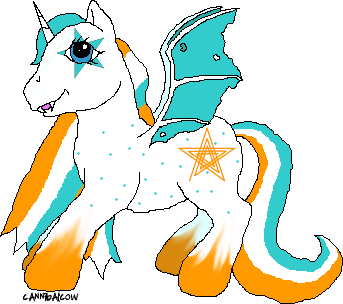 Heres Blazing Star: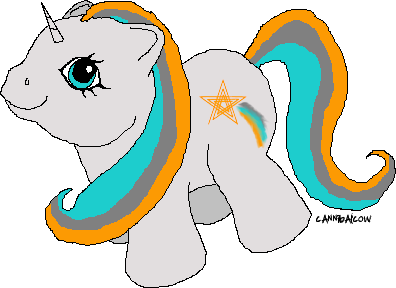 Symbol Ref:
Last edited by a moderator: