Joined

Apr 18, 2013
Messages

435
Awards

0
So my first auction arrived today! I was so thrilled to open it and get out my 10 girls...though 1 is being resold to my toy store owner friend most likely. They have some spa time to put in, but most are in good shape!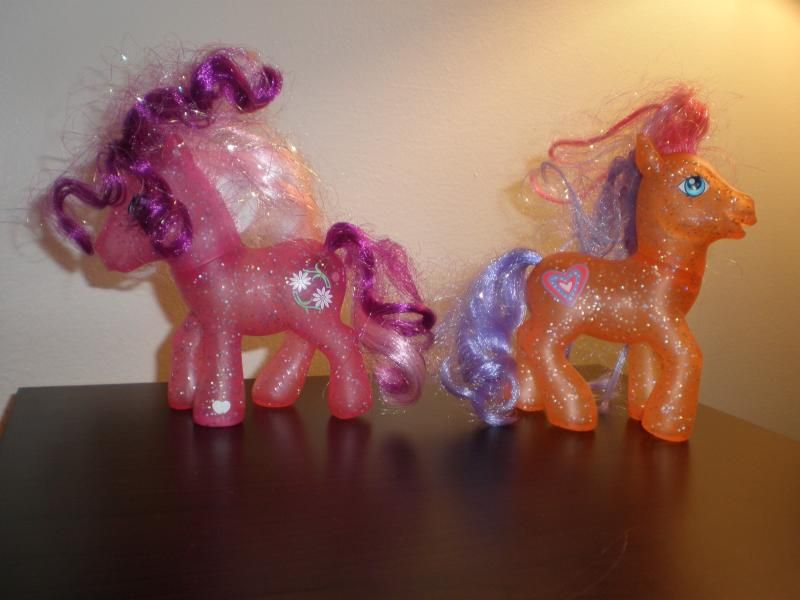 Tangerine Twinkle and Flower Garland--
Both girls have seriously seen some better hair days, but they are both in pretty great condition otherwise! Tangerine has had the magnet busted out of her foot at some point (looks like a pet got a hold of her, she has three very small teeth marks), but otherwise she has no marks or spots that need cleaned besides her hair. Garland has her magnet intact though it looks like she has a small spot of nail polish just behind her cutie mark.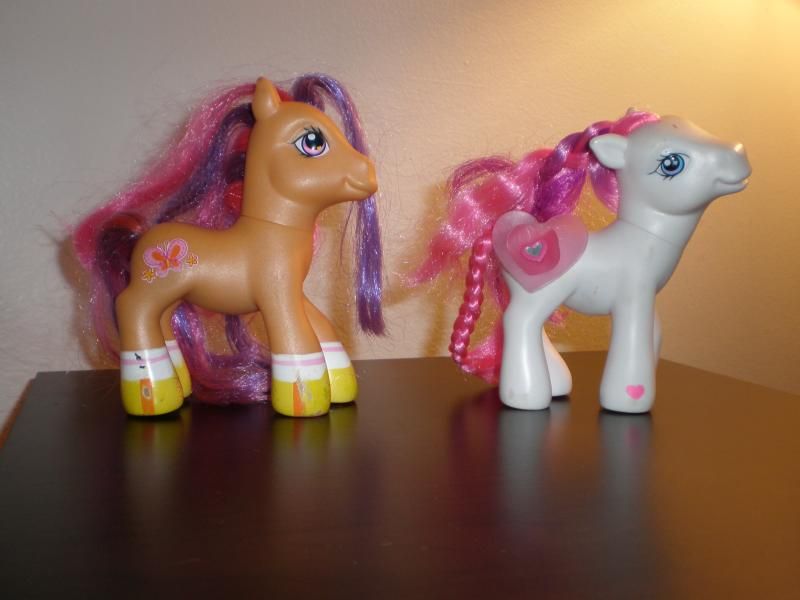 Scootaloo (Core Friends) and Love-A-Belle--
Scootaloo has some crazy hair and general light play grime. Her painted-on shoes do have some slight scuffs from play, but otherwise she looks great! Love-A-Belle has several black marks on her and light grime from play, but nothing looks too horrible on her. She even has her hair already braided, so she shouldn't need too much attention outside of a good bath! Her 3-D cutie mark is completely intact without any rips or major flaws as well.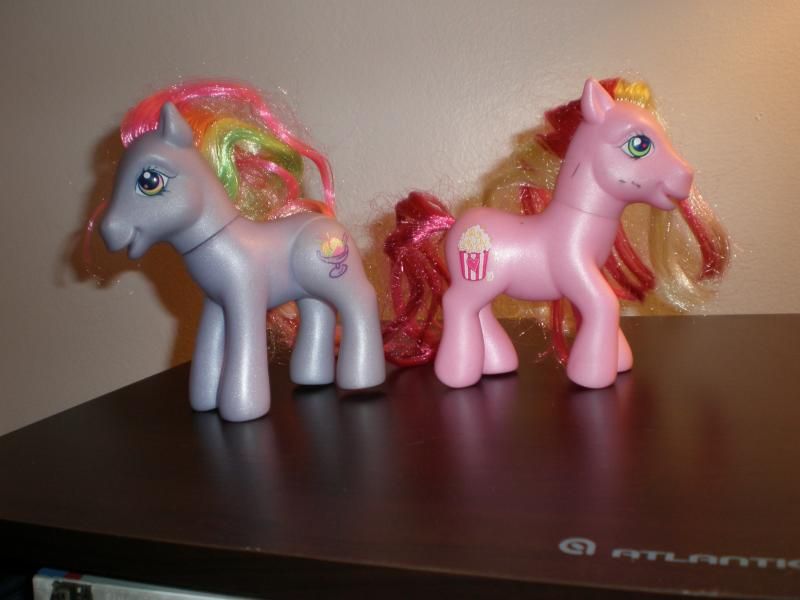 Butter Pop and Rainbow Swirl--
Butter Pop has some black marks on her face and neck but otherwise she is in good shape. Her hair is getting frizzy but overall still feels every silky, so she shouldn't need too much spa time. Rainbow Swirl is missing her ice cream truck that she came with, but other than a small nail polish spot on the bottom of her foot and some crazy hair she's perfect!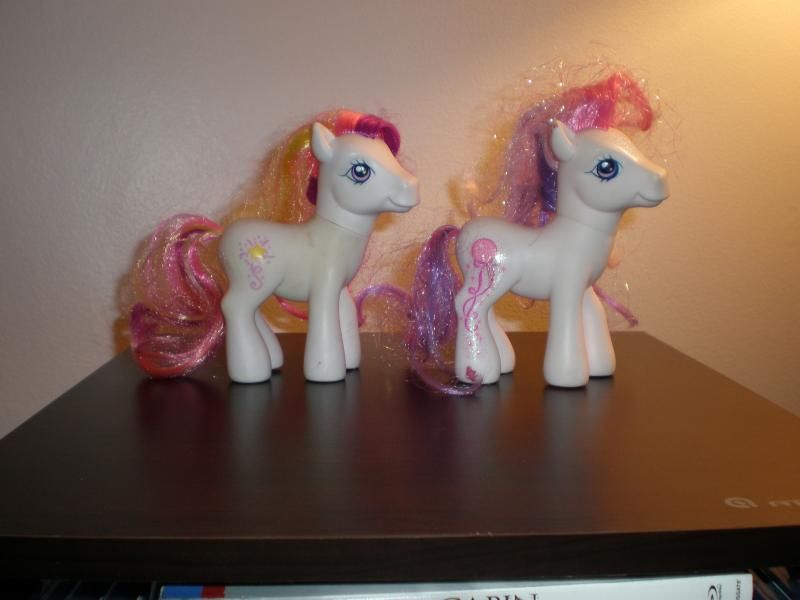 Fun Fairy and Sweet Sparkle--
Probably the two in the worst shape. Fun Fairy has some head-to-body mismatch but only on her cutie mark side so I'm hoping this is resolved after she has a good bath to rid her of her grime. Her hair is a bit frizzy but nothing too scary. And Sweet Sparkle...oh Sweet Sparkle. She has been playing with nail polish at some point in her life (I think she's the culprit for the spots on the others! xD ) and has some pretty large spots of it. But, as luck would have it, none of them involve her cutie mark, eyes, or her glitter blaze! They come close, but they at least don't overlap. I'm very optimistic that it can all be removed without too much fretting.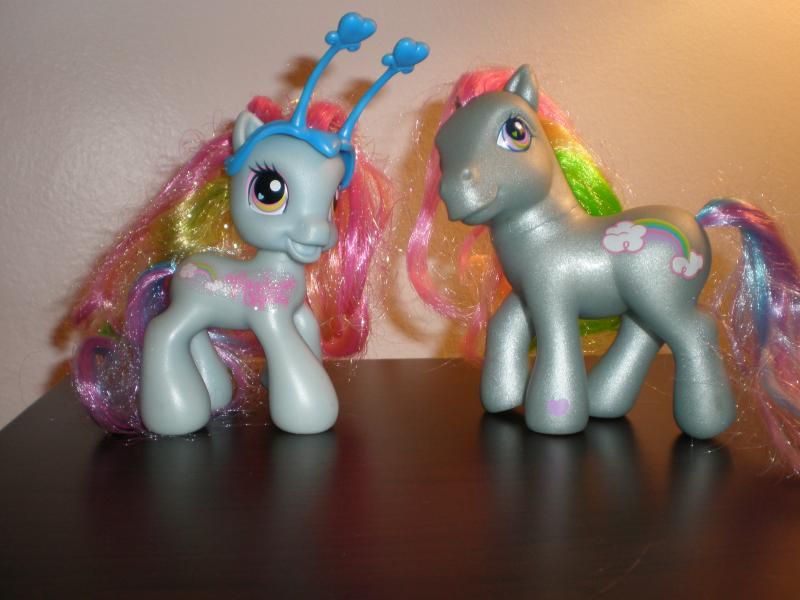 Rainbow Dash and Rainbow Dash 3.5--
The G3 version has no body flaws and really well managed hair. She still needs a tiny bit of styling but otherwise she looks nearly perfect! The G3.5....ahahaha. She was the "ah, I can resell her" in this lot. I have no desire to collect 3.5s, I'm still going to give her a good bath and styling though since otherwise I know she'd end up right back here in our family friend store owner's next lot of ponies ready for a spa day.